Connection
summer camp
5th -11th August, Girona, Spain
Open the doors to connection with yourself, with others and with Nature!
About
CONNECTION is a Summer Camp to reconnect with your body and Spirit.
This all -inclusive event will uplift you and bring wellness back into your life.
WE ARE A TEAM of more than 10 professionals, UNITED to share our knowledge about nature, the human body and manual therapies.
WE OFFER:
3 Healthy meals a day

Workshops on Anatomy, Automassage, Yoga, Acroyoga, Thai Massage and Movement.

Individual therapies

Group games

Children activities

Spiritual ceremonies
#connectionsummercamp is a summer retreat, a time of growth, a learning opportunity.
It's quality of life!
👉 BOOK YOUR ENTRY by writing to
info.connection.camp@gmail.com
Recharge and open your mind in a fantastic natural place with a castle by a lake!
you deserve more than a vacation, you deserve to live in connection!
Who is It For? What to expect ?
Open to anyone interested in :
Dance, Movement, Yoga, Bodywork, Thai Massage, Healthy lifestyle, Massage , Healing, Travel, Nature, Sustainable living, Alternative communities, Shamanism, Spirituality…
We are aware that the world needs more consciousness and community values, more touch, more laughter, more awareness, a non-violent way of communicating and living together.
We aim that together we create a deep transformational retreat experience, and with the excuse of moving together and learning about our bodies, we will go back home with new energies and new friends!
What´s included
Daily morning meditation and movement practice.

Bodywork workshops

All lectures and activities

Singing circles

Accommodation : 6 nights and 3 organic meals a day.

Swimming in the lake

What´s NOT included
Transport to and from the event site

Tents or caravans, you need to bring your own or rent one from us (see ticket options)

Temazcal Ceremony (optional 20€ extra)



15:30: Arrival to Summer Camp grounds during the day
18 :00: Opening Circle
20:00: Dinner
21:30: Night Talk with Laos, history of Solana de Riambau
7 :00: Meditation
7:30: Cosmic Hatha Yoga with EvaSion
9:00: Breakfast
10:30: Introduction to Anatomy for Thai Massage with Davide Stasi and EvaSion.
13:30: Lunch Break
15.30 : AcroYoga with Jordis Troost
18:00 : Presentation circle.
20:00 : Dinner
21:30 : Life music with Clay Burns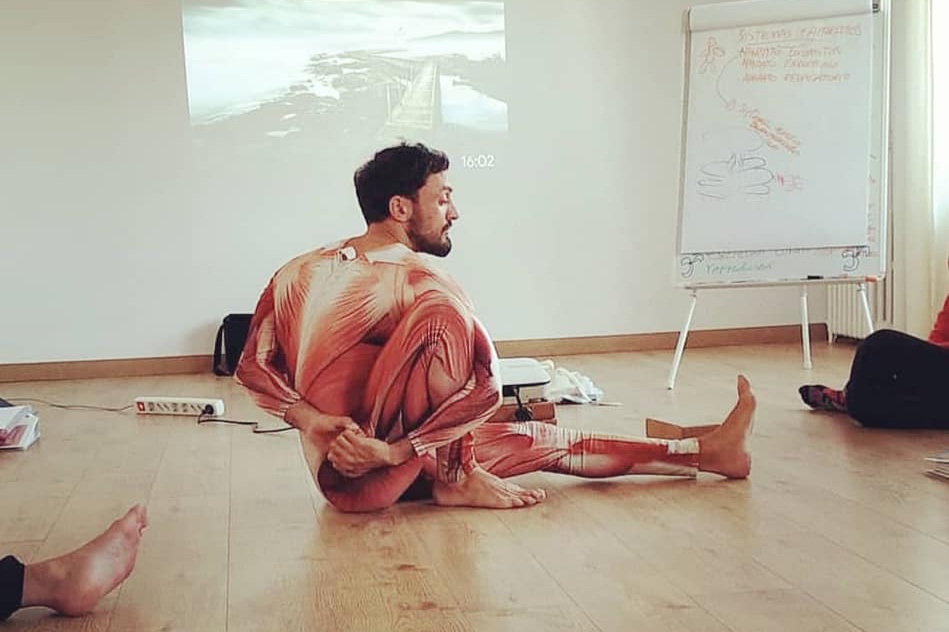 7th August, Opening the soul
7:00: Meditation
7:30: Shamanic Movements with Ana Pau
9 : Breakfast
10:30 : Thai Yoga Massage workshop with Clay Burns.
13:30 : Lunch Break
15.30 : Anatomy for Massage with Davide Stasi
17.30: Acroyoga practice with Clay Burns.
20:00 : Dinner
21:30 : Talk on Human Design, by Ana Pau.
8th August, Discover your voice
7:00: Meditation
7:30: Katonah Yoga with Vinny Bonnano
9:00: Breakfast
10:30 : Dynamic Thai Massage with Elisabet Green
13:30: Lunch Break
15.30: Anatomy for Massage with Davide Stasi
17.30: Women's & Men's sharing circle with Olga Hueso and Victor Eloy.
20:00 :Dinner
21:30: Workshops : Free singing circle with Ignasi Poveda
7:00: Meditation
7.30: Katonah Yoga with Vinny Bonanno
9:00 : Breakfast
10:30: Thai Massage workshop with EvaSion
13:30 : Lunch
15.30 : Thai Massage practice or AcroYoga.
18:00: Conference about "Awakening" with Ananda Das
20:00 : Dinner
21:30: Kirtan with Ananda Das
6:30: Optional Temazcal ( no included on the ticket)
7:00: Meditation
7.30: Slow flow with Elisabeth Green
9:00 : Breakfast
10:30 : "Present Moment, Only Moment" Thai Massage workshop with Till Heeg.
13:30 : Lunch
15.30: Katonah Magic Square with Vinny Bonnano
18:00 : AcroYoga or Thai Massage practice
20:00 : Dinner
21:30 : Open Mic Night & Concert by Ignasi Poveda
22:30 Ecstatic Nigh with DJs and Live Music
6:30: Optional Temazcal
7:00: Meditation
7:30 : Yoga Dance with EvaSion
9:00 : Breakfast
10:30 : Closing Circle
13:30 : Lunch
15.30: Wrap up and departure from Solana
18:00: Optional ceremony with Sui Pinon.
Thai yoga Massage & Cosmic Hatha Yoga
EvaSion start exploring the globe in 2000 and she hasn't stopped since then. Thai Massage came across her path in 2007 to start a life long love story. It is in this Art where her love for yoga and meditation comes together. Starting by following the Sunshine Network ThaiYoga lineage from the hands of Itzahk Helman. She is then also developed her therapist career studying with some of the great living masters in Thailand and around the world. She shares her love for yoga & wellbeing and treats people everywhere she travels to. Since 2013 she is sharing her passions through courses, workshops, and retreats worldwide. Recently she introduces "Effortless Thai massage" and also Thai massage & Yoga Vacation, to offer people to relax better and to discover themselves in nature.
Anatomy of touch and Self. Massage
Davide Stasi Began deepening his studies of anatomy and Thai massage 6 years ago and indicated his professional career more than 3 years ago. He mainly studied in Wat Po medical school of Bangkok and specialized with Pichest Boonthumme and Arjan Sinchai. On the side he has studied workshops of Deep Tissues, Osteo-thai, Wuotai, Dynamic-thai and Movement Culture.
His passion for healing of human species brings him to publish a book of self-massage, which method he often teaches in Barcelona with specifics seminars. To increase his knowledge and consciousness, Davide practices daily martial arts and meditation and Asthanga yoga.
Dynamic Thai Massage and Yoga
Elisabeth 'Green' Aue, physiotherapist, therapeutic & dynamic thai massage, osteopathy & yoga, earth lover & ocean protector, her interest in the healing arts started has taken her through various fields of this discipline, from classical to holistic medicine, healing plants & herbal knowledge, Traditional Chinese Medicine, Thai Massage,Ayurveda & Yoga. She works hands on as a therapist in her every day life in her hometown Vienna and on her travels and teaches yoga, breathwork, movement and meditation. Her curiosity and enthusiasm keep her learning, assisting her teachers, sharing and teaching - always remaining a student herself.
Acro Yoga teacher
Jordis Troost coming from Köhln, and she is the queen of acrobatics!! She is a 500hrs Yoga TTC, acroyoga and flying acrobatics certified teacher and she will be sharing her acro talents with us to create a magic connection, awaken up the body and discover a therapeutical "lunar" approach to flying and developing trust with our partners.
Thai Massage teacher, Musician, Dancer and Medicine Man
Clay Burns was introduced to the fascinating world of healing arts as a teenager and learned the magic of healing through music, dance, and massage. Clay originally comes from Chile and trained as a certified masseur in Colorado, US. Afterward he began his wandering years, in order to get to know the different teachings of the western and eastern healing arts. Currently he is offering workshops and treatments around Europe and he is also a facilitator of Amazonian medicine ceremonies.
Katonah Yoga Teacher & Magic Square
Vinny Bonanno "Stretching in Public" is passionate about helping others shine using the transformative powers of Yoga and holistic nutrition. Vinny is from Breezy Point, NY and after 6 years teaching Spin and sitting at a desk 9-5 he found his calling, connecting to and understanding our powerful bodies and minds!! He utilizes and teaches Yoga as a more diverse, therapeutic, uplifting form or exercise and a way to tap into our inner voice. Katonah Yoga Teacher and Motivational Coach. Vinny will be sharing with us his amazing Katonah Yoga sessions!
Olga hueso and victor eloy
She is Correspondent of Peace, Transpersonal Astrologer and responsible for Communication of Tierra de Lunas, the largest Women's Festival in Spain.
He is Spiritual activist and co-producer of Tierra de Soles, Festival of men dedicated to the exploration of sacred masculinity.
They will guide us with a women's and a men's circle. We will open a space to express ourself from being present in our bodies.
A space were to brew all the alchemic happening during this day of community living. A moment to allow all our muscles, cells and organs to speak, they all have been receiving messages through massage and movement. We will open this space to listen to our tribe sisters, like a room of mirrors, we are all a reflection of each other, we discover that we are all, all is in us and that we are all connected!
.
Human Design and Shamanic Movements
Ana Pau A lifetime of studies, practices and experiences about what it means to be a Human on Earth. Kinesiologist, Acupuncturist, Human Evolutionary Design Guide, are some of the tools that he puts at the service of those people who are in the process to understand and grow both in the spiritual, emotional or mental way, or the that you have chosen to experience. She is a very peculiar woman, who will not leave you indifferent, and that is precisely what that seeks in life, cause a mutation to all those people who are prepared to experience it and take responsibility for its existence. You can learn more about her at: www.creandoelcieloenlatierra.com
Conference about Awakening
Laughter Yoga Certified Leader Trainings & Workshops all over the world by Ananda Das, Certified Kundalini Yoga & Laughter Yoga Professor from India.
He comes from a spiritual family in North India. His Mother was a Raj Yogi and an Ayurvedic Medicine Practitioner. At the age of twenty his search for the true Self became deeper after receiving a Shaktipath initiation in the holy city of Vrindavan through the grace of his Late Enlightened Master Devraha Baba Ji which gave him a transformative experience of the silent awareness and a blissful state of beingness. Since then he has dedicated his life to deepen that experience.
He is also a Certified Professor of Laughter Yoga by Dr Madan Kataria's Laughter Yoga University in India and a Certified Yoga Teacher for Children through the Childplay Yoga Programme, he conducts Laughter Yoga Workshops & Laughter Yoga Leader Trainings all over the world training leaders to conduct Laughter Yoga classes and Workshops.
His workshops and classes are very vibrant, heart opening and effective in creating deep silence and self-awareness within.

Organizer, Photographer and Thai Massage practicioner
With an extensive education and practice in Thai Massage, as an assistant teacher, he will be sharing his passion and experience for Thai Yoga massage. He will work with you and on you so you understand the technique and feel it on your own body.

He will alsol be curating the afternoon and evening talks and activities : Laughter Yoga, Kirtan, Human Design, Quantum physics, Magic, Capoeira…
IGNASI POVEDA "IGNEOASIS"
Concert of vocal improvisation Let yourself be carried away by the musical journey that this genius of the vocal cords offers, that only with his voice, small instruments and a loop pedal, will take us on a journey through soundscapes and unknown worlds!
After 10 years of applied research, both scenic and psychotropic and academic, the gifts of Ignasi Poveda as an actor, performer, vocalist, improviser, dancer, psychologist, philosopher, poet, anthropologist and creator of shows, have joined in the same sound project, called -igneOasis-.
Flame that sails the creative Oasis of Fire that faces the oceanic desert. This shamanic incarnation is nourished by the arts that elevate the spirit around the globe, gathers them through their voice and confronts them with the spectator.
Be welcome the explorers willing to enter as persons, visit unexpected and unknown landscapes of the psyche, and end the session transformed into new mythological creatures.
Participatory activity and recommended for all ages!
foto credit : Fedra Brondo
Chef and nutrition Expert
Pablo and Sandra, they will be in charge of the kitchen and ensuring a healthy and optimal nutrition during the event!! They have a long experience cooking at retreats and are commited to health and wellbeing.

Please check their company Glorioso Super Nutrients to find out more about their work.
LAOS
Founder of Solana the Riambau, Presenter of the history of this place and how to live off the grid.
Founder of the community that will host our event, Laos arrived to this Land 20 years ago, only with his 2 horses and a horse wagon.
He managed since then, with the help of many others, to build a castle that overlooks the lake, a farm, and many other projects around this singular community. Listening to him and his story will not leave you indifferent.
Wirikuta Maza Mau Yaze
Temazcal
Wirikuta is originary from Mexico, belongs to theToltec Tribe. He is an experienced facilitator of Shamanic experiences.
He carries the ancestral Wisdom and healing to the service of the workshop participants.
Anabel Rodriguez
Yoga for kids and Family
Anabel Rodriguez is a hatha-vinyasa yoga teacher, certified Kids yoga teacher and a mindful kids instructor. Her biggest drive is her love for children and her desire to provide kids a safe space where they can explore, play, grow and be themselves. She has found yoga to be the perfect frame where she can bring together important lifeskills that help our kids to grow happy and confident: self-love, compassion, emotional intelligence, self-knowledge, non violent communication etc. Her classes are creative and super fun. She combines, yoga, acroyoga, contact dance, thai massage, mandala art, painting, story-telling, mindfulness etc. At her classes kids and parents find the place where they can build new dinamics and explore different ways to relate and grow their bond together.
For the last 5 years Anabel has been organizing and leading yoga trips to Bali, where she has been living. Currently she lives in Valencia and teaches Yoga to families, kids and adults. She organices Yoga holidays and retreats for families based in sustainable living and volunteers for an NGO teaching emotional intelligence and NVC techniques to teenagers at secondary schools.
"Kids remind us who we truly are"Anabel Rodriguez
Kids at Connection
This is a Family friendly event, and as such we aim to provide an experience for all the ages!
Some parents want to participate in the workshops, and for this we have in place an alternative program for kids, so they can also learn and be with other kids, under supervision of our caretakers, while the parents are in some activities. For all the other times during the event, such as breaks or free time, you should be in charge of your children.
Kids of 2 years old and below, should come with a supervising adult that can be with them at all times. We recommend that if you want to participate in all the activities, ideally you should come with another person, so you two can also share the cares and attention for your little ones. We have a special ticket price for this situation, please contact us for more information.
Kids Activities
Depending on the group of kids and their ages, these are some of the proposed activities by our facilitators :
Yoga and dance for kids

Relaxation Corner

Emotional intelligence stories

Music workshop, mantras-Mindfulness for kids

Circus : acrobatics, juggling, clown,..

Magic (yes we will have a Magician)

Art : painting, drawing, mandalas

Discovering nature (plants and animals)

Body awareness and self confidence through martial arts

Play with our lungs : Breath awareness and making sounds!

Creation of a labyrinth and a giant mandala

Cooperative games

Water games

Family games on the lake (observing safety

Art and recycling: we will create our little work of art with elements of nature and materials that we find to recycle.

We will make our small herbarium: We will press flowers and leaves and once dry we can paste them in a notebook .

"I am a bamboo" workshop : we will discover through yoga the important teachings that bamboo has to offer us.
Location and Accommodation
Location and accommodation
This event will happen at La Solana de Rimbau, a self-sustained alternative community in a castle by a lake surrounded by nature! Come to embrace the beauty of this secret land north of Barcelona that provides the perfect set and setting for amazing indoor and outdoor activities.
Bring your tent, caravan or camper van, or sleep with us in a community tipi tent with capacity for 20 people. There are a few dry toilets and standard ones around, plus 3 showers; but water is limited so make a conscious use of it or just dive in the lake!
This place generates its own electricity with solar power and generators, there are not many available sockets for recharging. There is no Wi-Fi and very bad cellphone reception. For this reason we suggest to reduce the use of electronic devices during these days, take this opportunity to disconnect and get back to nature.
3 vegetarian meals a day will be freshly made by our kitchen team using only local seasonal products. We ask you to collaborate by washing your own dishes and leave no rubish around, please Leave no trace.
Alcohol and other drugs are strictly banned. If you smoke tobacco please do it outside of the communal areas.
If you are planning to bring your pets, please let us know as there are other animals living on the site and we want to make sure there is harmony between all creatures.
How to get here
The Venue is located 5 km. away from Sant Llorenç de la Muga, about 2 hours North of Barcelona or about 45 minutes from the French border.
COMING FROM ABROAD
Flying to Barcelona o Girona Airport. Then TRain from Barcelona Sants Station to Figueres or Figueres Vilafant station, AVANT train. We will organize pick from you to the site for an additional 12€ for a 45 minutes ride.
By Road
Coming from France of from Spain, you need to travel to Figueres and from then to Sant Llorenç de La Muga. We will give you the specific location for the venue once you purchase your ticket
By Train / Bus
There are several train lines and buses going to and from Figueres. Once in Figueres there are buses 3 times a day to Sant Llorenç de la Muga. We will organise a shuttle from Sant Llorenç de La Muga to the venue, details to be confirmed when you purchase your tieckt
Tipi small